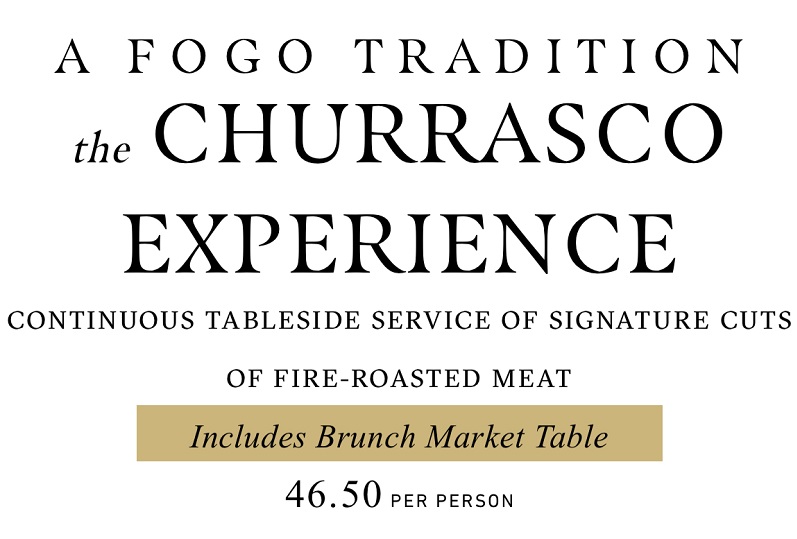 Nestled among the culinary wonders of Brazil, Fogo de Chão stands out as an exceptional dining experience that tantalizes the taste buds and captivates the senses. Known for its delectable churrasco-style dining, this Brazilian steakhouse has earned a reputation for excellence in both food and service. In this article, we explore the world of Fogo de Chão, delving into its pricing, the reputation it has cultivated, and its ever-growing popularity among food enthusiasts.
Here is the latest Fogo de Chao menu with prices:
Item
Price

The Churrasco Experience

*Includes Brunch Market Table and various premium meats like Filet Mignon, Bone-in Beef Ribeye, Fraldinha, Lombo, Picanha, Medalhoes com Bacon, Cordeiro, Pork Ribs, Costela, Alcatra, Linguica and Bisteca de Porco.
$46.50

Starters

Chilled Lobster & Shrimp
$45.00
Seafood Tower
$109.00
Jumbo Shrimp Cocktail
$26.00

For the Table

Wagyu New York Strip (20 oz)
$140.00
Wagyu Ancho (Ribeye 24 oz)
$150.00
Dry-Aged Tomahawk Ancho (Bone-in Ribeye 36 oz)
$105.00

ENTREES

Brunch Market Table
$34.00
Pan-Seared Salmon
$39.00
Cauliflower Steak
$39.00
Chilean Sea Bass
$46.00
Roasted Veggie Power Bowl
$35.00
Seared Tofu and Sesame Black Bean Pasta
$37.00

Brunch Cocktails

Passion Fruit Mimosa
$9.50
Fogo Bloody Mary
$10.50
Rose
$8.00
Proseco
$11.50

All Day Happy Hour

South American Cocktails
$10.00
Wines by the Glass
$8.00

DESSERT

Acai Cheesecake
$12.25
Papaya Cream
$11.00
Crème Brulee
$12.00
Chocolate Molten Cake
$12.50
Chocolate Brigadeiro
$13.00
Tres Leches Cake
$13.00
Ice Cream
$10.75
Key Lime Pie
$13.00

Bourbon Whiskey

Angel's Envy
$17.00
Basil Hayden's
$17.00
Buffalo Trace
$16.00
Bulleit
$16.00
Crown Royal Reserve
$17.00
Knob Creek Rye
$15.00
Suntory Toki
$15.50
WhistlePig Rye 10
$15.00
Woodford Reserve
$16.00

Cognac

Remy Martin Louis XIII

0.5 oz
$142.00
1 oz
$280.00
1.5 oz
$410.00
2 oz
$525.00
Cles des Ducs XO
$16.00
Courvoisier XO
$32.00
Grand Marnier
$14.00
Grand Marnier Cuvee du Centenaire
$35.00
Hennessy Paradis (1 oz)
$97.00
Hennessy VS
$12.00
Hennessy XO
$36.00
Remy Martin VSOP
$16.00
Remy Martin XO
$35.00

Dessert Wine

Inniskillin, Vidal, Ice Wine (375 ml)
$31.00
Jackson-Triggs
$16.00
Inniskillin Cabernet Franc Ice Wine
$40.00
Dolce, Late Harvest
$30.00

Port

Dow's Vintage Port
$25.00
Fonseca, Port
$12.50
Graham's, LBV Port
$13.00
Graham's, Vintage Port
$44.00
Ramos Pinto, Tawny "10 Year"
$14.75
Taylor Fladgate, Tawny "20 Year"
$29.00
Terra d'Oro, Zinfandel Port
$12.50
Warre's, Tawny, Otima 10 Year
$13.00
Warre's, Vintage Port
$14.00
Madeira / Sherry
Broadbent, "5 Years Reserve"
$12.50
Gonzales Bypass, Oloroso Sherry
$14.75

Grappa

Alexander Platinum
$17.00
Alexander Aqua di Vita
$23.00
Castella Banfi
$16.00
Jacopo Poli Sarpa
$18.00

Scotch

Blended

Chivas Regal 12
$15.00
Johnnie Walker Black 12
$16.00
Johnnie Walker Gold 18
$28.00
Johnnie Walker Blue
$46.00
Monkey Shoulder Batch 27
$15.00

Single Malt

Ardbeg 10
$22.00
Glenfiddich 12
$16.00
The Glenlivet 12
$16.00
The Glenlivet 21
$30.00
The Glenlivet 25
$60.00
Lagavulin 16
$26.50
Laphroaig 10
$16.00
The Macallan 12
$15.50
The Macallan 15
$34.00
The Macallan Rare Cask
$55.00
The Macallan 18
$59.00
Oban 14
$22.50

Café Cocktails

Carajillo
$11.50
Irish Coffee
$10.50
Nutty Irishman
$10.50
Espresso Martini
$11.50
Italian Coffee
$10.50
Baileys Coffee
$11.50
Chocolate Coffee
$11.50
Pricing: A Celebration of Flavor
Fogo de Chão offers a dining experience like no other, featuring a continuous table-side service of succulent, fire-roasted meats carved directly onto your plate. As a result, the pricing at Fogo de Chão is positioned at the premium end of the dining spectrum. Depending on the location and time of visit, the average cost per person for dinner ranges between $50 and $70, while lunch prices generally fall within the $30 to $40 range.
While the prices may seem higher compared to traditional casual dining, it's essential to consider the remarkable experience that Fogo de Chão offers. The array of expertly prepared meats, complemented by an extensive salad bar and traditional Brazilian side dishes, presents a feast fit for the most discerning palates. The pricing reflects the quality of ingredients, craftsmanship, and impeccable service that define the Fogo de Chão experience.
Reputation: A Gastronomic Journey
Fogo de Chão's reputation rests on the pillars of authenticity, craftsmanship, and exceptional dining experiences. The restaurant meticulously upholds the traditional Brazilian churrasco-style cooking techniques, ensuring that each cut of meat is cooked to perfection over an open flame. This commitment to preserving the essence of Brazilian cuisine has earned Fogo de Chão the trust and admiration of both local patrons and international visitors.
Beyond the culinary delights, Fogo de Chão is renowned for its warm and attentive service. The knowledgeable staff members, often referred to as "gauchos," expertly guide diners through their culinary journey, explaining the different cuts of meat and offering recommendations. This dedication to personalized service has contributed to Fogo de Chão's reputation as a destination for memorable dining experiences, whether for celebrations, business gatherings, or intimate dinners.
Popularity: A Gastronomic Phenomenon
Fogo de Chão's popularity has soared over the years, attracting a diverse clientele seeking a unique and immersive dining adventure. With locations across the United States and several countries worldwide, Fogo de Chão has become a sought-after destination for food enthusiasts and connoisseurs alike.
One factor contributing to its popularity is the restaurant's ability to cater to a variety of dietary preferences. Alongside the succulent meats, Fogo de Chão offers an extensive salad bar featuring fresh vegetables, artisanal cheeses, and signature Brazilian side dishes. This comprehensive approach ensures that vegetarians, seafood lovers, and meat enthusiasts alike can savor a gratifying and satisfying meal.
Moreover, Fogo de Chão's dedication to culinary excellence extends beyond its restaurant walls. The brand has established a robust presence on social media platforms, showcasing its mouthwatering offerings and engaging with its audience. By leveraging digital platforms, Fogo de Chão has successfully connected with food enthusiasts, fostering a community of loyal patrons and generating buzz around its unique dining experience.
Conclusion
Fogo de Chão has carved a distinctive niche in the world of gastronomy, enticing diners with its impeccable service, authentic flavors, and immersive churrasco-style dining. While the pricing reflects the premium nature of the experience, it is a testament to the exceptional quality of ingredients, craftsmanship, and service that define Fogo de Chão.
For those seeking a culinary journey that transcends ordinary dining, Fogo de Chão promises an unforgettable experience where the art of grilling meets Brazilian traditions. From the sizzling meats to the vibrant salad bar, each element harmonizes to create a symphony of flavors that will leave you craving more. Embark on a gastronomic adventure at Fogo de Chão, and let your senses be enthralled by the richness and authenticity of Brazilian cuisine.
To learn more information about Fogo de Chao, you can visit their official website.
Fogo de Chao Grand Opening Promos 2023